Visiting Portland, Oregon
Portland, Oregon has much to see and do. Visiting this beautiful city for a few days in September was a great experience. I landed in PDX via Southwest Airlines to spend a few days in Portland, Oregon for the EBA (Elite Bloggers Academy) Activate Live Conference. Men and women from all over the United States and various countries visited for four days of learning, networking, and collaboration. However, I also wanted to venture out and see what the city had to offer. 
Portland is the largest city in Oregon. It sits on the banks of the Williamette and Columbia River. Portland also has great views of Mount Hood. It is known as a foodie town! You can find fantastic restaurants, food trucks, coffee houses, wineries, and microbreweries. Visitors can also visit beautiful rose gardens, the Oregon Zoo, or an NBA basketball game.
Where Did I Stay
During my visit, I stayed at the  Crowne Plaza Portland Downtown Hotel. It is within walking distance of the Portland Convention Center, restaurants, and shopping malls. Public transportation is nearby, so accessing other tourist spots is easy. The hotel offers nice amenities such as a swimming pool, parking, bicycles for rent, and a nice bar and restaurant. Customer service was fantastic. The hotel staff was very attentive, pleasant and accessible to the guests.
I did some research on the goings-on in the city and found that the Feast Portland Festival was happening during my visit. It is a food and drink festival. It celebrates food, wine, and beverages made in Portland. Proceeds support local social agencies and fights against hunger.  I was lucky to purchase a ticket for Friday, September 15th, because the events sell out quickly. What an experience to have while visiting!
A desk receptionist gave great information and directions on how to get to Feast Portland. The Max Light Rail station was a couple city blocks from the hotel. The rail tickets are reasonably priced at $2.50 or you can buy an all-day pass for $5.00. I was a little confused at the ticket kiosk and which side of the track to wait; however, a nice young lady helped me out. Then she made sure, I got off at the right stop. Kindness is alive and well in this city.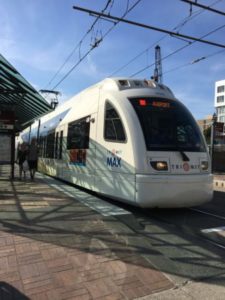 Feast Portland Festival
When I arrived at Feast Portland, it was well organized with an array of wines, beers, teas, and food to taste.  I sipped pinot noir, sparkling wines, Beaujolais and more. I munched on a variety of cheeses, game meats, vegan dishes, and desserts. It was such a wonderful event and for a good cause, too.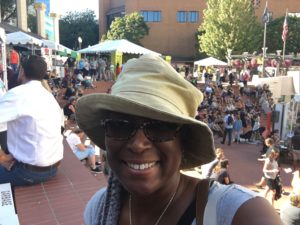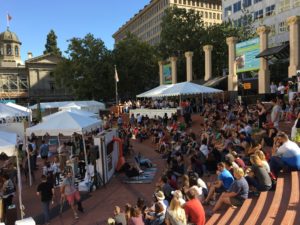 Foodie Town
Since Portland is a foodie town, I wanted to visit some local restaurants and food trucks. For breakfast, the Pine State Biscuits Restaurant serves up some delicious food. Therefore, be prepared to leave with your belly full.  My mouth is still watering for their shrimp and grits plate and the honey butter to slap on a biscuit. Don't worry, there's plenty on the menu or you can build your own biscuit.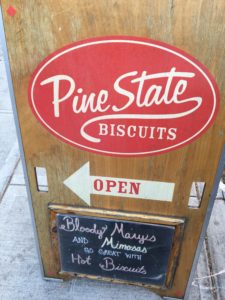 So, let's move on to more eating. The Screen Door Restaurant is another gem. They serve breakfast, lunch, and dinner. Wow, what delicious food to eat! From the hotel, it was a quick Uber ride. When a friend and I arrived there was a line. The friendly host said it was about a 45-minute wait.  So instead of sitting around and waiting, we decided to take a walk around the neighborhood. The area is filled with restaurants, shops, arts and crafts, and a Whole Foods. Briefly, we looked at a couple of homes for sale, stopped in shops,  and then stopped in Whole Foods. There's always something to taste in there!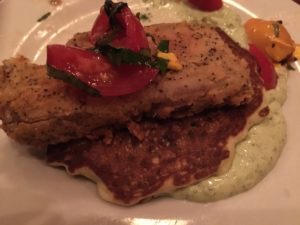 Then we made our way back to the Screen Door. The menu has much to choose from. For appetizers, we had country fried pork belly and fried green tomatoes. Scrumptious! Then we ate beef brisket with coleslaw and sweet potato fries. Afterward, we were ready for a nap!
Also, the menu includes Trout Pecan, Seared Lan Rock Pork Collar, or Smoked Chicken Andouille Gumbo. Alas, their motto is "Traditional southern cooking with Northwest food values." Yes, they are living up to their motto.
More Things to Do in Portland
When you take a trip to Portland, Oregon, here are a few other places to visit. They are accessible via public transportation and the Max Light Rail. Lastly, I look forward to my next visit!
Additional Links
https://www.portlandoregon.gov/25782
https://www.tripadvisor.com/Attractions-g52024-Activities-Portland_Oregon.html
Please follow and like us: