Check out our visit to Cartagena, Columbia  February 2017
Experience Taipei, Taiwan
Traveling across the globe and getting to learn about a new city or country is so exciting! The last week of December 2016 and New Year's Day was spent in Taipei, Taiwan. This is a city that I often read about and put it on my bucket list. Well, an opportunity to visit came about and I jumped on it.
First thing was to jump on a plane. Family members and I flew on EVA Airlines for the first time. The customer service and flight were fantastic. It was a 14-hour nonstop flight with plenty of movies to watch, meals and sleep. Fourteen hours went by quickly and so did customs.
The van ride to the Palais De Chine Hotel was approximately 30 minutes. The five-star hotel is a mix of Chinese and Western culture. In 2015, Palais De Chine was awarded the 2015 Trip Advisor Travelers' Choice Award, Winner of Top 25 Luxury Hotels in Taiwan." The hotel is located to the north of Taipei Main Station. It is easily accessible via the subway or taxi. Shopping centers and restaurants are also walking distance.
A Few Things to Do and See in Taiwan
While in Taiwan we tried to see as much as possible during our five-day stay. It was non-stop, but well worth the adventure. There was still so much to see, but perhaps on the next visit. Yes, there will be another visit. Below are a few activities and locations that made our stay.
Elephant Mountain (Nangang District Hiking Trail) is located near Taipei 101 and the Xinyi shopping district. You can take the metro train that is about four or five blocks from the trail. If you want to test your physical stamina or need exercise, this is a place for that. However, Elephant Mountain is a trail and hike that can take 15-30 minutes to complete. It has many stairs to climb, but once you reach the top, the views are magnificent. There are landings on the way up if you need a rest. Bring a camera or a selfie stick to take photos. Also, bring a bottle of water or drink to stay hydrated.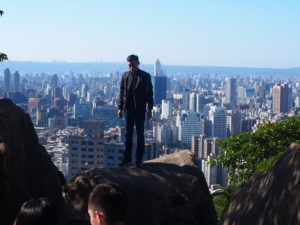 Longshan Temple is one of the oldest and most famous temples in Taiwan. It is an important part of Taiwan's history. You can take the metro train to the Longshan Station. Once there you will see a people praying, burning incense and making sacrifices. The temple is well maintained with beautiful structures. You can buy souvenirs, take photos or just enjoy the moment.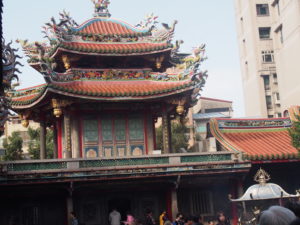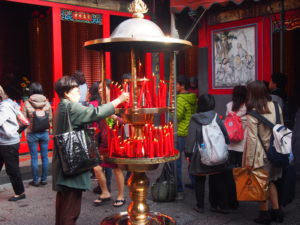 Chiang Kai-Shek Memorial Hall is a very important museum in Taipei. It is a national monument and landmark built in memory of Chiang Kai-Shek, the former President of the Republic of China. The museum is filled with artifacts and historical documents around Chiang Kai-Shek's legacy. You can witness the ceremonial changing of the guard. Explore the grounds along with the National Theater and Concert Hall. See the beautiful bronze statue of Chiang Kai-Shek and walk up the 89 steps that symbolize the number of years that he lived.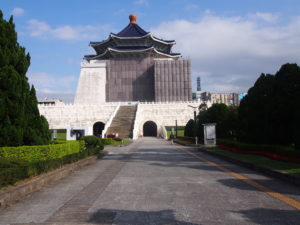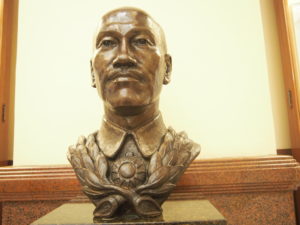 The National Palace Museum houses over 700,000 pieces of ancient Chinese artifacts and artwork. Chiang Kai-Shek fled to Taiwan during the Chinese Civil War. When fleeing, he brought along these priceless artifacts. The National Palace Museum has one of the largest collections in the world. Be prepared for crowds and covering a lot of space. You can do a self-guided tour with rented headphones and tapes. The exhibits are laid out in Chinese and English. The museum is filled with so much history and artifacts that you really need two days to explore. Also, check out the museum shop for souvenirs and more.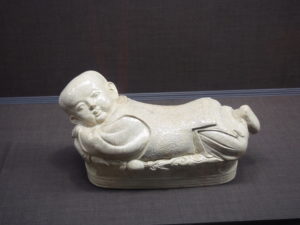 Taipei 101 is the tallest building in the city with 101 floors and an observatory to see the city from up high. On the bottom floors is a shopping mall with many shops and luxury brands. The observatory is located on the 89th floor; however, there are outdoor decks on the 91st floor.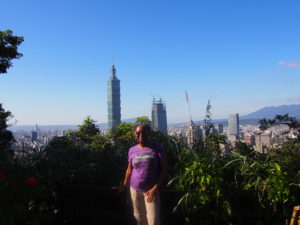 National Revolutionary Martyrs' Shrine is dedicated to the war dead of the Republic of China. The structure houses the spirit tablets of approximately 390,000 persons killed during wars and crises. Watch the honorary changing of the guards and explore this beautiful shrine.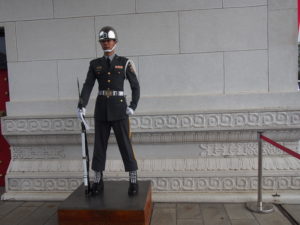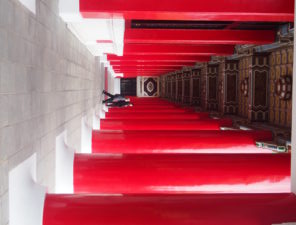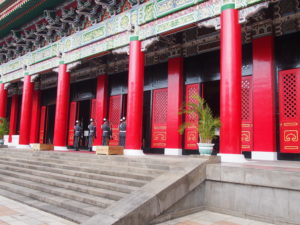 Also, visit the night markets such as Shilin Night market or Huahsi Night Market for great street food. It is very safe to walk around in Taipei. If you are a shopper, you can find plenty of malls with the latest shoes, clothes, purses, etc. If you have time take a tour of the Northern Coast of Taiwan.
Yehliu National GeoPark is a must see. It is located less than an hour from Taipei. It's a beautiful drive along the Great Ocean Road and looking out at the sea. On the drive, we stopped at Keelung, a port city. In Yehliu we saw beautiful rock formations. These formations are due to the impact of sea erosion. The most famous rock formation is the Queen's Head. It actually looks like a queen with a crown. There are other formations that represent shapes of other sea creatures. Take your camera for great photo opportunities.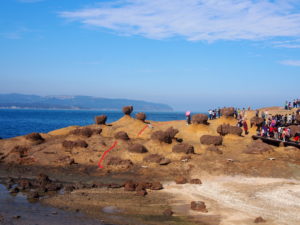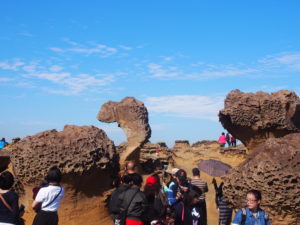 If you get an opportunity to take a trip to Taiwan, take advantage of the many historical sites, the shopping, and the food. The Taiwanese love a good meal and are foodies. They often joke about their love for eating. Don't worry about not speaking the language because English is widely spoken.
Transportation is great and you can easily get around. The subways are clean and efficient. EVA Airlines and many others have direct flights to Taipei, so what are you waiting for floor. Plan your trip!
New adventures are coming soon.
Save
Save