Travel to Bali
My wanderlust is at it again. My travel crew was with me: my sister, cousin, and niece. Thanks to a great Living Social deal, we were able to enjoy an affordable vacation. We arrived in Depensar on March 11th, at 1:00 am. We left Chicago on March 9th at 11:30 am on Korean Air. While in flight, we crossed the international date line. Our flight itinerary was from Chicago to Seoul to Bali for a total of 21 hours of flying plus a short layover.
Korean Air was great. We flew economy, but the customer service during the flight was fantastic. Fourteen hours on the first leg was filled with watching movies, sleeping, listening to music, reading, eating, stretching, drinking plenty of water and more sleeping. The in-seat entertainment system was way cool! The touchscreen featured movies, TV shows, games, music, and flight information. It even came with a remote control. The legroom was excellent and we weren't cramped at all.
The layover in Seoul was approximately 90 minutes. The Incheon Airport in Seoul, Korea was nice, bright, comfortable and efficient. We boarded our second flight to Bali which lasted about seven hours. Again, I watched movies, slept, ate, read, etc. We landed and it was March 11th. It was a 14 hour time difference and our bodies were still on Chicago time. 
Arriving in Bali at 1 am, we made it through the long line in customs, found the tour guide, Swa and driver, YoYo and made it out of a very busy airport. Boy, was it hot and humid outside! You wouldn't believe a number of people inside and outside of the airport at 1 in the morning! Our tour guide got us in the van and off we went to the Alila Ubud Hotel. The drive was approximately an hour, but at 2 am in the morning there were no traffic jams. Swa told us a little bit about the country and town as we made our way through the dark streets. They drive on the opposite side of the road and very very fast!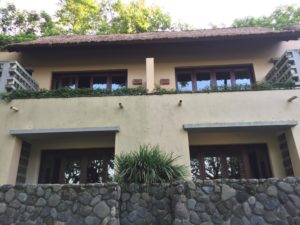 We arrived at the Alila Ubud at 3 am. We were greeted with enthusiasm and given a cool towel with the scent of lemongrass to refresh our faces. It was wonderful! The scent of an essential oil on the towels was very refreshing after a long day of travel. We were also given a fresh ginger drink that soothed our thirst.  We registered and signed paperwork. Then it was off to the rooms. All we could think about was a shower and the bed!
Nice Rooms and Wonderful Service
We enter our nice rooms for two. Each room had twin beds, a nice bathroom, and hot shower. The hot shower never felt so good after 21 hours of flying. After 4 hours of sleep, we arose to eat breakfast and explore our hotel. We awoke to see lush vivid green vegetation. Breakfast at the Plantation Restaurant was provided. The food was a combination of Authentic Bali dishes and traditional European and American breakfast dishes. The restaurant set above the tropical forest with beautiful rays of sunlight piercing through the window openings. The service and wait staff were exceptionally nice and courteous. We dined sufficiently and began to walk the grounds.
Walking the Grounds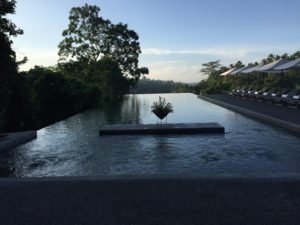 Before walking through the grounds, we stopped at the main lobby to ask for a resort map. There we got a resort map, a walking tour map, and an Ubud Village map. We decided to only walk through the hotel grounds.
The grounds were beautiful. On our walk, we discovered the Cabana Lounge, infinity pool, Alila boutique and gallery, Spa Alila and the Sculpture Garden. For the life of us, we could not find the Organic garden but found it two days later on accident. After walking the grounds we decided to put on swimsuits and visit the most beautiful infinity pool that we've seen. We lounged, napped and talked. We were in vacation mode.
Visiting the Town
Later that night, we decided to take a shuttle to the nearby town. When we arrived it was a little late and Shops were closing. However, we decided to go to Naughti Nori for some good old food!
Day 2 ended with dinner at Naughti Nori, where we all ate a slab of ribs, stir-fried vegetables, and fried rice. I know, you're thinking that we had to go all the way to Bali for ribs! However, the restaurant was recommended by a Canadian couple from Sakachwen. It was well worth the visit and sitting in the heat and humidity!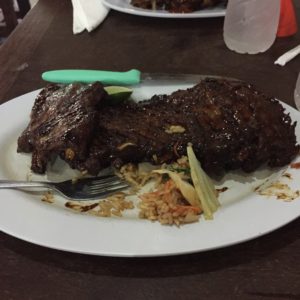 Part 2 continues with Day 3 and 4
Please follow and like us: