This post contains affiliate links. If you click on a link,
a small commission may be paid.
The Interstate System
During the COVID19 pandemic, I have plenty of time to think and plan my next road trips. My hometown, Chicago, Illinois, has access to several interstate highways. One such interstate is I-65, and it can take me to some interesting sights in Indiana, a neighboring state. So, I researched points of interest along I-65, and I'm ready to explore Indiana.
The Interstate System in the United States is 46, 876 miles long. During the tenure of President Dwight Eisenhower, he signed the Federal-Aid Highway Act of 1956 to establish the funding and building of the Interstate System. Eisenhower modeled his vision for the Interstate System after Germany's autobahn, which he had seen during and after World War II. The system is vast and covers the 48 contiguous states, Hawaii, Alaska, and Puerto Rico. However, we're going to focus on I-65, which first opened in 1958 in Tennessee. The interstate currently covers 887 miles.
Interstate 65
The next few blog posts will cover I-65 from the Chicagoland area to Alabama. Interstate 65 goes through four states, Indiana, Kentucky, Tennessee, and Alabama. Before the pandemic lockdown, I reached out to state tourism offices for information and resources. Here's a huge thank you to Indiana and Alabama for their quick and personalized response. So many exciting and fun places and points of interests are along the interstate, I look forward to the road trip. The journey begins with exploring Indiana.
Leaving Chicago, I-65 picks up in Gary, Indiana, the birthplace of Michael Jackson, the Jackson Five, and Janet Jackson. The home is not located along I-65, so let's save it for another trip. Gary is a hop, skip, and a jump from Chicago and the south suburbs of the city. Let's keep rolling as we explore Indiana.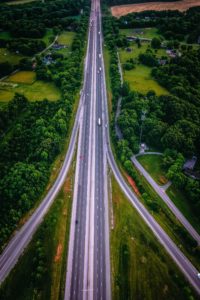 The first stop is in Merrillville, Indiana at Albanese Candy Factory. It is known for making the world's best gummies and chocolates. If you're a gummi fan, Albanese has many different flavors of Gummi Bears. You can eat your heart out with soft-textured, sour, gluten-free, or fat-free Gummi Bears. Albanese Candy Factory also sells chocolates, including milk chocolate, dark chocolate, sugar-free chocolate, and more. If you like nuts, you can purchase cashews, almonds, pecans, and mixes. Albanese Candy Factory is a must stop while exploring Indiana.
Fair Oaks Farms
Next, we will make a stop at Fair Oaks Farm in Fair Oaks, Indiana. The farm is an agricultural attraction that is located in the corn belt of Northwest Indiana. Fair Oaks Farm is a perfect place to escape from the city to the countryside. Tourists can visit a variety of attractions. Both kids and adults like the Dairy Adventure, the Pig Adventure, and/or the Crop Adventure. It's a great learning experience for all.
West Lafayette, IN
Hopping back in the car and driving along I-65, we head to West Lafayette, Indiana. Time to fill up on food at the Triple XXX Family Restaurant. It is located near Purdue University on a hill in Chaucery Village. Triple XXX has been around since 1929 and is well known for delicious comfort food. It is also known for the Triple XXX Root Beer that has been around since 1895.
After a great meal, time to walk off some of the calories. The following stop is Prophetstown State Park. It is also located in West Lafayette, Indiana. As we explore Indiana along I-65, Prophetstown is a nice stop along the way. Prophetstown State Park commemorates a Native American village founded in 1808 by Tecumseh, a Shawnee warrior, and chief. According to history. Prophetstown became a large, multi-tribal community in the 19th century.
If you like hiking and biking, trails are available in the state park. Campgrounds are available for those who wish to camp, and you can eat with your family in picnic and shelter areas. The park also has an open-air museum and a water park. There are plenty of activities for adults and children.
Indianapolis, IN
We have more places to explore along I-65. Therefore, let's continue to drive. The next stop is in Indianapolis. Some call it Indy for short, and it is the capital of Indiana. Indy is the most populous city in the state. While in Indy, we can visit the Indianapolis Children's Museum. It is the world's largest children's museum with over 472,900 square feet and five floors of exhibit halls. Children and adults can see over 120,000 artifacts and exhibit items. While visiting the museum, visitors can check out three domains of objects: The American Collection, the Cultural World Collection, and the Natural World Collection.
Then, we will head over to the Indianapolis Zoo. It is located in White River State Park. It is a fantastic zoo and situated on 64 acres. Over 3800 animals are housed at the zoo, and it has a rich history in the city. The Indianapolis Zoo first opened in 1964 and moved to its current location in 1988.
Columbus, IN
After visiting Indianapolis, we head south to Columbus, Indiana. Here we can participate in an architectural tour. The community of Columbus has architectural designs by world-renown architects like I.M. Pei, Eliel and Eero Saarinen, Dale Chihuly, and Richard Meier. Visitors can take a two hour narrated tour of the architectural designs. Columbus is also known for its art, culture, and history.
More Places to Explore
A few other places to visit along I-65 include the Muscatatuck National Wildlife Refuge. It's 7800 acres with eight hiking trails, log cabins, pioneer cemeteries, and driving tours. The Falls of the Ohio State Park/Lewis & Clark National Historic Trail is on the banks of the Ohio River and across from Louisville, Kentucky. Activities include fishing, walking, picnicking, and bird watching. Lastly, Goat Milk Stuff is a 36 acre farm in Scottsburg, Indiana. Here you can purchase natural bath and body items and food items made from goat's milk.
The journey to explore Indiana along I-65 takes us to some interesting sites. There are many more places to visit in Indiana, but they exist along other interstate highways. We will explore some of them in later posts. For now, we continue on our journey along I-65 to the next state, Kentucky.
This post contains affiliate post. If you click on a link,
a small commission may be paid.