Plan a Road Trip
Taking a road trip is fun! Driving to your destination gives you an opportunity to see so many things you can't see on a plane. So, last spring a friend and I decided to spend spring break on the road. Our primary plan was to drive from Chicago, Illinois to Biloxi, Mississippi. During our road trip, we also planned to make stops in Tunica, MS, and Memphis, TN. We had a great time on our road trip.
First, we planned our trip a couple of months ahead. I know a few folks who often drive from Chicago to Biloxi. So, I asked about the best highway routes, hotels, restaurants, and other scenic attractions. Then, I researched the cost and reviews of hotels, points of interest, tourist attractions, and casinos. My friend and I decided that the first leg of our road trip would be from Chicago to Tunica. Second, we would leave Tunica and drive to Biloxi. Then we'd leave Biloxi to Memphis. Lastly, we'd head home from Memphis to Chicago.
On the Road
On the day of departure, we packed up my Infiniti QX50 with our suitcases, snacks, and beverages. Fortunately, gas prices were decent, and the weather was perfect. When I was a kid, my parents always left before sunrise. We did the same so that most of the driving is done during the light of day. Our trip began on I-57. We had Sirius XM, GPS, iTunes playlists, and plenty of conversation. Our route to Tunica, Mississippi was I-57 to I-55 for an 8-9 hour drive.
During our drive to Tunica, we stopped for lunch. Also, we stopped for gas, and rest stops for stretch breaks and of course bathroom breaks. The ride gave us a chance to talk about personal and professional stuff. Sirius XM came in handy because we love singing all the R&B and Rock music from the 70's, 80's and 90's. We even threw in some Latino grooves and car seat dance moves! Finally, we made it to Tunica, Mississippi.




Two Days in Tunica
After an eight hour drive, we checked into the Horseshoe Casino and Hotel. Our room was a nice size with plenty of room for the two of us. The facilities were clean and well laid out. The 14 story hotel has 500 rooms, plenty of free parking, several restaurants, a swimming pool, and spa. The casino is a part of Caesar Entertainment and has plenty of slots and table games to keep you busy.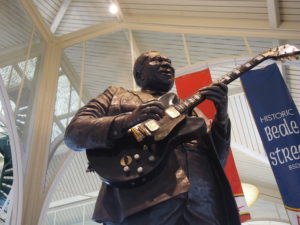 Gambling is fun; however, we decided to take a guided tour to Memphis, Tennessee. It was an inexpensive way to get in some tourist attractions of Memphis. During the tour, we visited Beale Street, Graceland, National Civil Rights Museum, Shriners' Hospital and Stax Museum of American Soul Music. Our tour guide was very informative and gave us many historical facts. After a few hours, we headed back to Tunica.
Tunica has several other casino/hotel complexes including Harrahs, Gold Strike Casino, Sam's Roadhouse and others. We enjoyed our two-day stay at the Horseshoe Casino and Hotel. It was time to pack up the car and head down the road to Biloxi, Mississippi.
Next Stop is Biloxi
Our route to Biloxi was on Route 55S to Route 49S. It is approximately a 5-6 hour drive. We left around 7 am and had a smooth ride. The scenery was lovely and green. We passed farms, restaurants, and a huge Nissan plant that seem to go on and on. Five hours passed quickly, and soon the waters of the Gulf of Mexico came into view. I was excited to see sunshine, sand, and salt water.
We checked into the Beau Rivage Casino and Hotel. Biloxi is another casino town and has many hotel/casino options. The Beau Rivage is a part of the MGM Resorts. It is a beautiful facility with a spa, swimming pool, various restaurants, table games, slot machines, and live entertainment.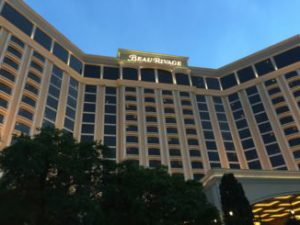 The eating is delicious in Biloxi! In the Gulf, seafood reigns supreme. We visited several restaurants for lunch and dinner. We dined at the Half Shell Oyster House, McElroy's Harbor House Seafood Restaurant, and our favorite, Tasty Tails Seafood House. It was our favorite because it was the most affordable, delicious food, generous portions, and a couple of blocks walking distance from the hotel.

Ocean Springs, Mississippi
We also visited Ocean Springs, Mississippi which is approximately two miles and across the bridge from Biloxi. We took public transportation to Ocean Springs. It has some great boutiques, shops, and restaurants to visit. We shopped and got some great deals on clothing items. Then we had lunch where we met some ladies (snowbirds) from Illinois and Ohio. We met many snowbirds hiding away from the cold midwestern winters.
Three days in Biloxi went by quickly. We checked out of the Beau Rivage and headed up Highway 49N to Memphis. After five hours on the road, we checked into the Holiday Inn Memphis Downtown. It was close to Beale Street, restaurants, and the famous Peabody Hotel.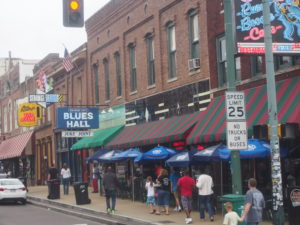 Memphis, Tennessee
During our one night stay in Memphis, we visited Beale Street and ate some famous Memphis bbq. We stopped at the Gibson Guitar Store. I'm not a guitar player, but the guitars were so beautiful that I wanted to purchase one. Then we visited the Peabody Hotel to see the famous ducks. Seeing the ducks was on the to-do list, but it was overrated. Lastly, we took a stroll along the Mississippi River.
It was a quick visit to Memphis and time to hit the road. The drive to Chicago is approximately 8-9 hours. During our journey to our hometown, we ran into some rain and thunderstorm. However, we made it home safely. Our road trip sparked an interest in future adventures. I am always ready to go!
Resources
Official Website of the City of Biloxi
https://www.biloxi.ms.us/visitor-info/
Tunica Travel
https://www.tunicatravel.com/
Memphis Travel
http://www.memphistravel.com/
Please follow and like us: