Vacation planning is natural for some and difficult for others. Some people are adventurous and pick up and go at any time. Others have to think down to the minute details. Which of these persons are you when it comes to vacation planning? Either one must do some planning. Here are the five W's of vacation planning: where, when, why, who, and what.
Where am I going? Take a look at a world map or maybe a U.S. or state map. A spontaneous person may point to a place on the globe and decide that's it. A detailed person probably has a  place in mind. People choose a location for a variety of reasons. However, knowing where you're going is half the battle. Also, remember your budget and financial limitations when planning a vacation!
When and Why
When am I going? Next, set a departure and return date. How many days will you be away? The average person has a few things to consider when deciding a date. If you work, you must be sure you get the vacation time approved by your boss.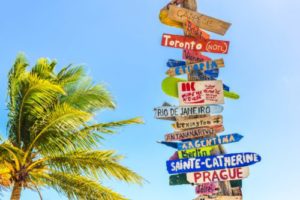 Perhaps you have a spouse and children. What dates are they available to travel? Or can your bae or favorite travel buddy get time off too? For those who go solo, no worries because you're on your own. Also, think about when are the best travel deals and when is the best season to travel to that location.


Why do I want to travel to this place? Already you asked yourself, where to and when. Next, what makes you want to visit that specific country, city, or state? For example, do you want to visit China to see the Great Wall or Egypt to see the Giza Pyramids?  Maybe you're a foodie, and New Orleans is on your bucket list. Why is your destination a place of interest? Is it the culture, the food, or people? Then ask yourself is there more to see than one landmark? Ask the questions to help with your vacation planning.
Who and What
Who do you want to travel with you? This is a crucial question because whoever it is will be with you for the duration of the trip. Both of you need to be simpatico! Do your personalities mesh? Are you total opposites? What if you like budget hotels and they like 5 Star hotels? Be careful when choosing your travel buddy, because it can make or break a vacation.




What's next? "What" is the question! Now, that you answered a few questions about where, when, why and who, here are a few more. What airline will you fly? More importantly, what airline flies to your destination and what are the best fares? Then you must choose what hotel or resort to stay in and for how many days. Afterward, you need to research and decide what transportation and tour options are available.
Conclusion
How to get it all done is easier when you can answer the five W's. Vacation planning becomes easier with experience and over time. Whether you're traveling across state lines or the seas, plan your travel moves. Create a chart or jot down notes of your plan in a travel journal. Don't try to keep all of the information in your head, because you will forget something important. Vacation planning should generate excitement for the adventures to come.
Disclaimer: This post contains affiliate links. If you click a link, a commission may be paid.
Please follow and like us: